PLNT BASIL + LEMON TART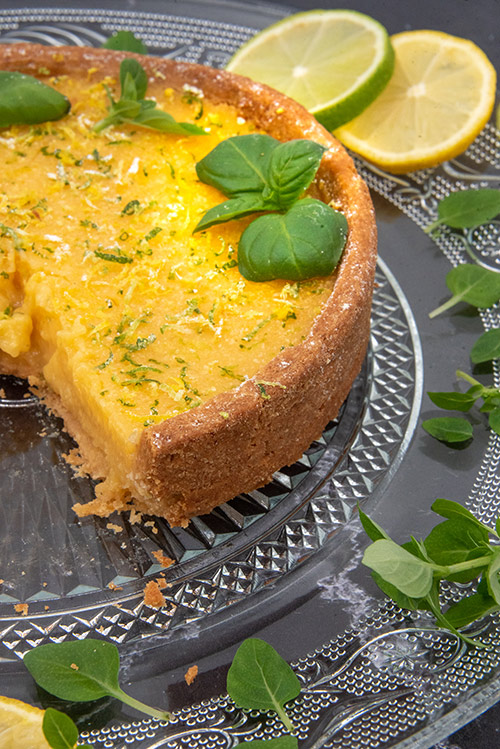 Prep Time: 45 minutes
Cooking Time: 38 minutes
+/- 1-2 hours chilling time

Ingredients for the pate sucrée crust:
125g unsalted butter, cubed at room temperature
1⁄2 tsp vanilla extract 65g
castor sugar
1 egg yolk
230g patisserie flour
1⁄2 tsp fine salt garnish (optional)

Ingredients for the filling:

200ml lemon juice (about 4-5 large lemons)
2 lemons zested
6-7 (12) fresh basil leaves, roughly chopped (+5/6 a few extra for decoration)
175 sugar
1/4 tsp salt
170g unsalted butter, cubed
4 large eggs + 4 large egg yolks
Instructions:

Make the pâte sucrée crust.

In large mixing bowl, combine the butter, castor sugar, salt and patisserie flour by rubbing between your fingers until creamy and smooth. Add inner scrapings of the vanilla pod and egg yolk and mix until it becomes a dough. Roll into a ball, wrap in plastic wrap and place in the fridge for 2 hours, minimum.
Alternatively you can combine the flour, butter, sugar, and salt in a food processor and process until the butter is coarsely chopped and roughly forms a dough. Lightly kneed making sure all ingredients are well combined, roll, wrap and place in fridge.

Pre-heat your oven to 180°C fan bake
Take the pâte sucrée out of the fridge, place it between two large sheets of parchment paper and roll it out to a 12-inch circle.
Un-peel the top sheet of baking paper, transfer the crust to a 9-inch tart pan (trim the sides if needed and keep the excess) and poke the bottom of the crust all over with a fork.
Place inside the uncooked tart shell a scrunched up piece of baking paper place pie stone weights or dried beans and rice work also, on top to keep the tart crust from sinking and puffing when baking. Bake the pâte sucrée for 20 minutes. Carefully remove the baking paper filled with weights and bake for 10 more minutes, until the edges of the crust are golden.

With cooked shell still in the tin, set it aside to cool.
Leave your oven on at 350°F/180°C.

In the meantime, make the lemon- basil filling.

Grab a fine-mesh strainer before you start and have it ready within arm's reach.
In a medium sauce whisk together the lemon juice, lemon zest, basil, sugar, salt, egg yolks and eggs. Add the cubed butter and turn the heat to medium. Whisk slowly until the butter is all melted. Continue whisking steadily for several minutes until the mixture thickens to a thin custard consistency.
Immediately pass the lemon curd filling through the fine mesh strainer to discard off the basil pieces directly into the tart shell.
Using an offset spatula (or back of a large spoon), smooth out the top of the filling.
Bake the tart for 5 minutes, until the filling has slightly set and turned slightly deeper in colour.
Set aside to cool for at least 30 minutes. Place in the fridge to fully set for another 30-60 minutes.
Decorate with basil leaves and lime zest.
The crust: Pâte sucrée/short-crust pastry
A pâte sucrée is a sweet, crumbly French pastry thats a bit crisper and less sandy than a "pâte sablée" making it the perfect curst for our Tarte au Citron. A store-bought short crust pastry or pie crust will work just fine.
Due to the amount of butter in your crust, it is recommended that it be chilled twice. First, let it rest for at least 1-2 hours before rolling it out, and then again for over 30 minutes once you have rolled it out in the tart shell before baking. Make sure to consider these chilling times when making this lemon tart. The dough can be made the day before and kept refrigerated for up to 24 hours.
The crust is blind baked, which means you bake with baking paper on top of the tart and weights.
Enjoy!